Infobric offers a variety of digital services and smart functions that help you keep track of individuals, companies and QHSE. The services are available on the Ease Construction and Infobric Field platforms. Via Ease Construction you use the services in presence, access, UE and personnel. Via Infobric Field, services are offered within QHSE. With Infobric Field you ensure that: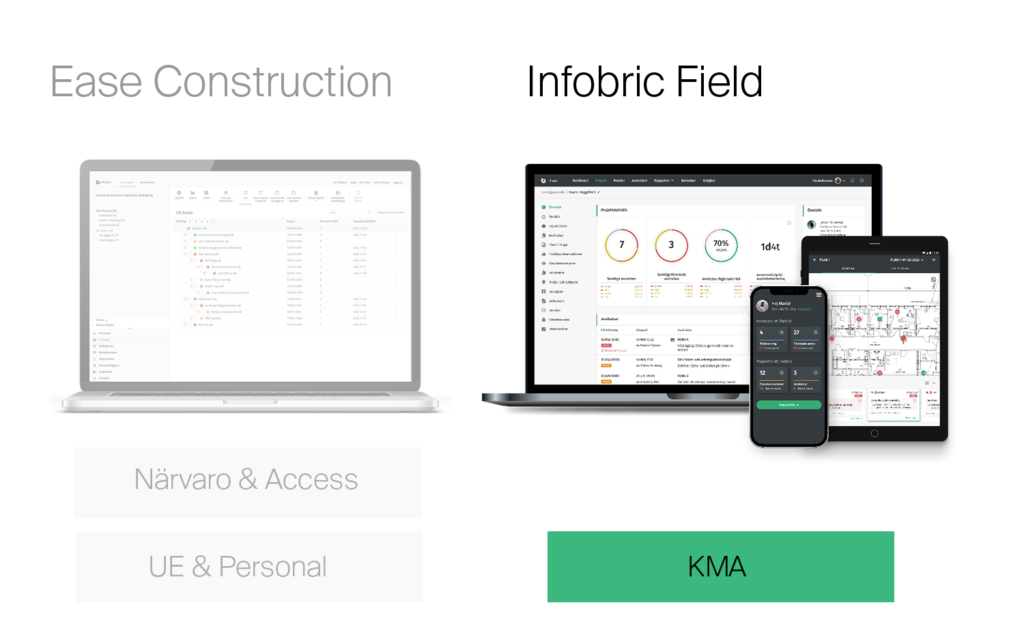 Benefits of Infobric's QHSE platform
Get started quickly
Easy to get started with user-friendly features that adapt to role
Flexibility
Great flexibility in adapting processes and templates to suit your way of working
Focus on results
Results-focused platform with a unique focus on reducing action times and driving individual responsibility
Decision basis
Visual aids to see status, analyze trends and compare performance
"Infobric Field helps us create a safer workplace. We get more eyes on the workplace and risks that I don't see are raised in a completely different way."
- Christine Johansson, Health & Security Manager
Get answers to your questions
Frequently asked questions.
How do I start a project in Infobric Field?
As an existing customer, you can either fill out our form for project start-up or contact your contact person. If you do not have a central agreement, you can fill in the form to be contacted by sales.
How do I register for my project?
How do I download the app?
Download the Infobric Field mobile application from the AppStore or Google Play. You can access the web platform at app.infobricfield.com.
How do I report an incident?
Click Report in the menu in our mobile app, or do it under Incidents in the project view on the web. All users have the right to report observations and incidents. When a person in charge has handled the report, an email will automatically be sent out to the reporter.
How do I start an inspection?
Inspections are done via our mobile app. If you have a scheduled inspection, it is visible under the home screen in the app. If it is not scheduled, you can do so via the plus sign in the menu. Read more details here: How do I complete a tour?
Get a call from a salesperson.