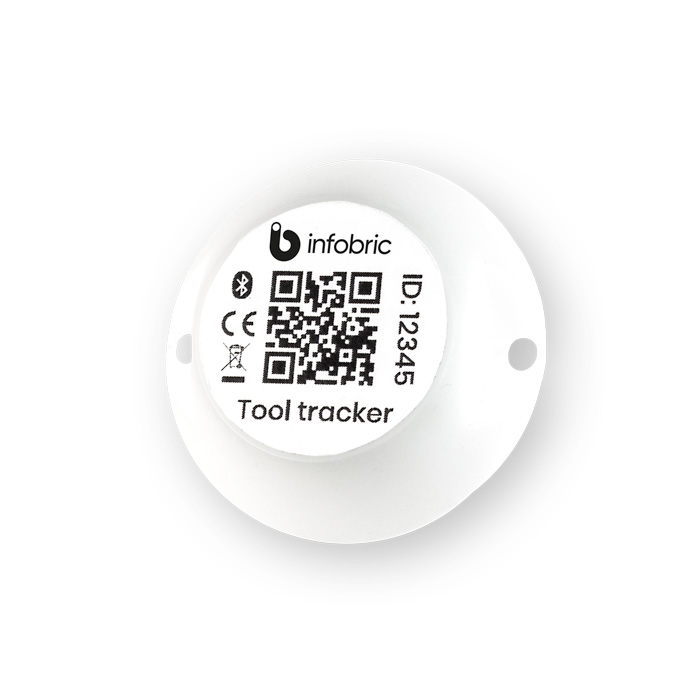 Model description
A small unit installed on all types of equipment and tools. The unit uses Bluetooth technology and communicates with the Ease Fleet app and our tracker units. 3-year battery life. The Ease Fleet app has smart functions to give you a full overview of your tools.
Product type:
Tool Tracker
Model name:
TQ399
Technical overview
Size
36 x 11.5 mm (Ø x H)
Voltage feed
Internal battery with up to three years battery life
Weatherability
Water and moisture-resistant according to IP68 (IEC 60529)
Communication
The unit communicates via an Infobric Tracker or via the Ease Feet app using Bluetooth/BLE
Location
The unit is located by the unit which receives the ID signal from Tool Tracker, i.e. an Infobric Tracker or the Ease Fleet app
Get started
Download Ease Fleet from the AppStore or GooglePlay. 
Log in and select "Configure tool". 
Scan your Tool Tracker or select "Configure" from the list. 
Add a photo of your tool by pressing "Add photo". 
Enter your tool's category. 
Enter the manufacturer, model and a description of the tool. 
Getting started Select which organization the unit should belong to. 
Enter its home location. This might be with a user or in a vehicle. 
Save by pressing "Configure new tool". 
Attach the Tool Tracker to your tool. 
The tool's location is updated whenever it's near an Infobric Fleet app or a vehicle with an Infobric unit. 
You can check the location and status of your tools in the "My tools" module.
More solutions from Infobric Fleet